Events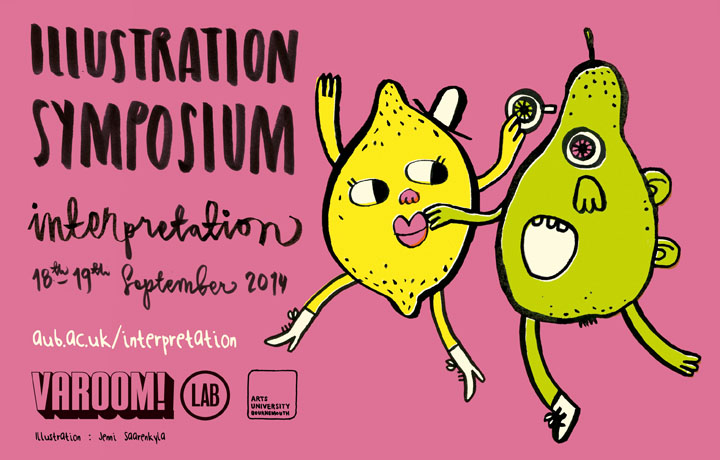 18-19 September 2014, AUB, Bournemouth – Book Now
Interpretation is the theme of the latest VaroomLab symposium on illustration, this year held in partnership with Arts University Bournemouth. Illustrators, students and academics are all welcome.
Interpretation seeks to explore ways in which illustrators, interpret, re-interpret and misinterpret information through illustration practice.
This event will celebrate and investigate the potential exciting creative strategies and possibilities for practitioners to move minds, challenge norms and influence the ways in which we the see the world and connect with it.
You are invited to meet fellow illustration enthusiasts over a two day symposium in September in the seaside town of Bournemouth and enjoy the talks presented by practitioners and academics on illustrating the Prisoner of Zenda, Lucien Freud's early illustration work, gender representation in illustration, interpretations of error, an exploration of how visual storytelling is vital in how we engage with the world, the role of exchange between artist and scientist in natural history illustration, panel discussions and more.
Speakers include Bill Prosser, Chris Campe, Joel Lardner & Paul Roberts, Paul Burgess,Mireille Fauchon & Four Corners books, Andrew Kulman, Gary Embury and Thomas Barwick. Guest speakers will include animator, Cyriak ('a real renaissance man albeit with a trademark surrealist attitude, psychedelic influence and love of fractal geometry and orders of magnitude', Varoom)
The symposium is held 18-19 September 2014, and you can register for tickets here. Accomodation can be sourced here.
Tickets for Interpretation are now on sale, priced as follows:
£35 Students
£90 Standard Ticket
£75 Early Bird (Closes Early August — Limited availability)
£50 VaroomLab Members (Limited availability)
SPATIALISING ILLUSTRATION
Swansea Metropolitan University and VaroomLab Illustration Symposium
24th and 25th January 2013 
Venue: Swansea Metropolitan University
Spatialising Illustration symposium seeks to explore ways in which we encounter space through illustration. The event aims to roam beyond illustration as a discipline and explore it as a medium inherent in many artistic activities; a medium that evokes ideas and narrative, and one that offers subtle messages about the spaces and places we encounter.
From the monumental to the commonplace, we experience our surroundings in a profusion of ways. Whether geographically or historically, culturally or psychologically, place is bound to shifting meaning and significance. Illustration has the capacity to lead us to both physical and mindful places: like a symbolic map of society, navigation is by way of interpretation; putting into context – spatialising.
Keynote speakers:
Chris Aldhous - Ghost of Gone Birds
Founder / Creative Director GOODPILOT
Chris was the creative director at various international ad agencies before setting up his own idea agency in 2007, dedicated to persuading clients to invest their money in more meaningful, storytelling projects, supporting independent initiatives by artists, photographers and film makers.
He ran the HYPE Gallery project across Europe for two years, opening pop-up art spaces in Paris, Moscow, Milan and Berlin. He provides creative consultancy for a range of NGOs including ActionAid, WaterAid, Global Campaign for Education, Bollocks to Poverty, International Alert and Save The Children. He's also working with Ridley Scott Associates, developing multi-platform film projects with several of the directors.
In 2009 he created Ghosts of Gone Birds as an ongoing campaign to raise a creative army for conservation. The project has already produced art exhibitions in Liverpool, London and Brighton, featuring over 150 artists, writers, poets and musicians.
In 2013, the Ghosts project will continue to pop-up in unexpected venues around the country, forging a grass-roots creative network of artists committed to raising awareness and funds for frontline conservation activity.
Laura Carlin MA RCA, Illustrator
Visiting lecturer at the University for the Creative Arts at Maidstone.
Laura Carlin primarily works in her sketchbook, both on location and at her studio. A prolific drawer and painter, she has learnt to appreciate mistakes and understand the power of white space. Laura currently works in an advisory role with the development of Quentin Blake's House of Illustration. She is also a regular visiting lecturer at the University for the Creative Arts at Maidstone.
Nicola Davies Children's Author
Nicola Davies graduated with a degree in zoology before becoming a writer, producer, and presenter of radio and television programs. Her award-winning books for children include BIG BLUE WHALE, ONE TINY TURTLE, SURPRISING SHARKS, and BAT LOVES THE NIGHT. More recently Nicola and illustrator Mark Hearld collaborated on "A First Book of Nature", published this year by Walker Books.
Simon James Author/ Illustrator
Simon James first book, The Day Jake Vacuumed, was published in 1989 – and two more books about Jake soon followed. "My Friend Whale", was the first of several concerned with a child's relationship with the natural world – "Dear Greenpeace", "Sally and the Limpet", "The Wild Woods" and "The Birdwatchers" have established Simon as one of the country's leading author/illustrators. "Leon and Bob" won the Smarties Book Prize Silver Award and was the New York Times' Best Illustrated Book of the Year, and "Days Like This", a collection of small poems, was shortlisted for the Kate Greenaway Medal. "Baby Brains" was the overall winner of the Red House Children's Book Award in 2005, voted for by 25,000 children.
Booking and Information here
BOUNDARIES: Illustration-practise-research
Plymouth University and VaroomLab Illustration Symposium
Held 14 and 15th September 2012
Venue: Plymouth University
Symposium tickets included an invitation to the drinks reception of the opening of the Plymouth International Book Festival and the launch of Making Great lllustration exhibition.
The symposium was a platform to consider issues around the subject of illustration practise and research, sharing of knowledge and experience whilst pushing the boundaries of critical engagement.
The event explored how new technologies, concepts, and professional issues are encouraging innovation, shaping the subject and pushing the illustration community to practice in new ways.
The symposium aimed to:
• disseminate and showcase research and practise from the subject
• facilitate the dissemination of research
• provide debating and networking opportunities for participants
Peer reviewed presentations:
Stephanie Black – Illustrator/researcher
Rear View Mirror: timely lessons from illustration in old media (pub. in V18)
Gary Embury - Illustrator/academic
Reportager: visual journalism
Nanette Hoogslag – Illustrator/designer/researcher
The signifier of incompleteness: editorial  illustration in the new media age
Katherina Manolessou – Illustrator/academic
Animal character design in children's picturebooks: The perspectives of the practitioner and the researcher.
Professor Mario Minichiello – Illustrator/academic
Political Illustration as a means to break boundaries in a mass mediated world
Also:
Presentation on their book, Making Great Illustration, by Derek Brazell and Associate Professor Jo Davies
Audrey Niffenegger in conversation with Derek Brazell on her visual books and novels
Babette Cole, children's book author and illustrator, discussing her career
Private view and launch of the Plymouth International Book Festival – 14th September
Delegates were invited to attend the launch of Making Great lllustration, an exhibition of artwork and photographs exploring the working processes of more than 20 of the world's leading illustrators, including Ronald Searle, Ralph Steadman, Quentin Blake, Emmanuel Guibert, Yuko Shimizu and Kitty Crowther, and opening of the Plymouth International Book Festival with readings by Helen Dunmore.
REGISTRATION: closed